Local wetland needs your help
The Friends of Campbells Creek Landcare Group needs helpers to plant hundreds of plants into one of the only remaining creek-side wetlands left in our district.
The group is holding a wetland information day and working bee this Sunday the 10th of December.
Ian Higgins, the group's environment officer said "we are lucky to have Damien Cook coming along to tell us how wetlands are faring in our region and advise us on improving our own". Damien, a keen naturalist for 30 years, is a professional ecologist specializing in wetland and riparian restoration.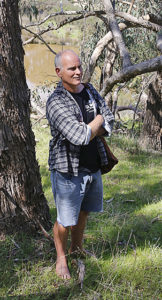 Ian added "the end of gold digging in Castlemaine allowed a section of Campbells Creek to reform itself into a type of wetland that was once widespread and characteristic of lowland waterways. This 'chain of ponds' wetland formation was destroyed over most of south east Australia by European style land management practices."
The landcare group has been controlling weeds in this wetland for several years and thanks to funding obtained through the North Central CMA is now ready take the next step. You can see photos of some of the wetland plants we'll be establishing here.
Further information can be obtained from the group's website. Meet at the end of Lewis Drive Castlemaine (outside the now defunct Tonks Hardware) at 10:00 AM.